Casinos are regarded as particular, distinguished establishments and patrons are expected to dress a certain way. This shows respect for other guests, as well as the casino that aims to give you the most luxurious experience possible.
That being said, not all casinos have a specific dress code, but most of them require their guests to wear certain clothing items. Over the years, dress codes have become more relaxed and there are fewer casino venues that demand patrons to dress in designer tuxedos and ballroom dresses.
1
Each Casino May Have its Own Dress Code
Visit the websites of casino facilities you plan to go to. You should be able to find info on the dress code that those specific establishments require. Different dress codes may apply at different casinos.
2
General Rules about What not to Wear
No matter where you go, there are rules of thumb about what is considered unacceptable on the casino floor. Even though you will often have to adhere to formalities, these particular points will save you from committing any major impropriety.
Never wear flip flops and avoid sneakers

Dirty, torn clothing will not do

Shorts or t-shirts may sometimes be accepted during day time; after 6 pm, these items are frowned upon. Men are expected to wear button-down shirts and women blouses

Lounges/nightclubs may demand different dress codes, so you might want to check before waiting in line whether the requirements differ or not from what the casino is demanding
3
Knowing Dress Code Levels
Oftentimes, you will go to a casino site to prepare and see the requirements only defined as a specific level, such as "business casual", "white tie" or "black tie optional".
To be able to differentiate them, you must learn which level refers to which clothing items.
"Casual" is the lowest level of formality in the dress code.  This refers to your everyday wear, but not in the sense of sweatshirts and yoga pants – more in the sense of what you would wear on a date.
For men, this means they do not have to wear ties or suits. They can wear any color or pattern, jeans and plain t-shirts.
For women, sundresses, skirts, khakis or jeans are allowed, as well as plain t-shirts and less formal blouses.
Most people dress like this for work, namely office jobs or business-related events.
For men, this means they can wear a sports coat/blazer, slacks or khaki pants, as well as a button-down, collared, and polo shirts. Loafers are acceptable, and the tie is optional.
For women, they can wear skirts, khakis or pants with collared shirts, blouses or sweaters. They do not have to wear stockings or hose, but they aren't allowed to wear revealing clothing or show cleavage.
This is one step higher in formality than "business casual". For most casinos, this is the safe way to go, and also comfortable enough for gambling.
Men are required to wear dark suits with light-colored button-down shirts. Leather shoes are a must, yet ties are optional.
Women should wear pencil skirts or other similarly conservative-length skirts with stockings or hose or reasonably tight slacks. They can wear blouses, blazers or jackets and inconspicuous jewellery.
Now we go into formal attire. "Black tie optional" demands quite formal clothes, although some exceptions can be made.
A larger variety of dark-colored suits are acceptable, and you don't need to wear a jacket or a west if you are a man. A button-down shirt with a tie, trousers and formal leather shoes are required.
Women can wear gowns or cocktail dresses, with the colors being rich or neutral (black, white, red, navy blue, metallic).
"Black tie" is extremely formal and not too popular in today's casinos. This dress code level is exclusive to evening events and often typical of VIP lounges.
Men should wear a dinner jacket and matching trousers (black, burgundy or navy blue), a white button-down collared shirt, tie (or a bow tie), formal black shoes and black socks. A waistcoat is optional.
Women should wear floor-length gowns and or elegant cocktail dresses, as well as well-cut pantsuits. They should wear heeled evening shoes and tick with dark/rich colors. Accessories should be used moderately, keeping it simple and elegant.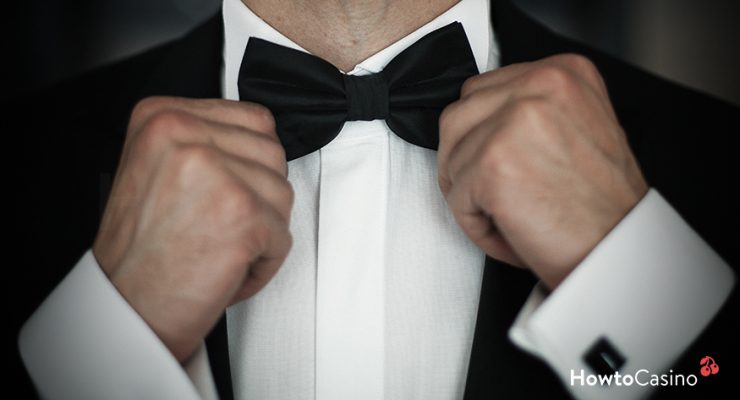 This is the highest and the rarest of formality levels in the casino world. This is what you will see in James Bond movies more often than in real life. The only occasion when a casino might require such full evening dress is if it is setting up a high-profile benefit.
"White tie" means men have to wear fitted black dress coats with tails and trousers with a satin stripe, white tux shirts with a bib front, wing collars, shirt studs and cuff links, white vest and white bow tie and black patent leather shoes.
Women, on the other hand, must wear floor-length gowns and ball-gowns, small purses, elegant jewellery and if they want they can also wear white gloves or fur wraps. Oh-la-la!