Players who are new to Guts Casino, looking to make their first deposit – you have come to the right place. We are giving you a quick and simple written tutorial on the subject of depositing at Guts.
1
Go to Guts Casino Online and Log In
In preparation to make a deposit, you need to access your account. Log in using pre-established account details. Only after doing this, you will be able to access the cashier section and start considering which method of payment will be the most suitable for a transfer.
If you don't have an account with Guts, you have to create one to be able to deposit and bet for real money. 
Visit Guts Casino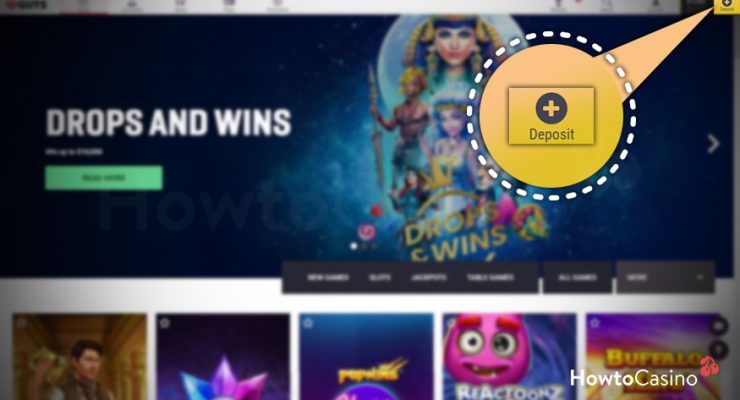 You can easily open the cashier section from the casino homepage. Finish logging in and then take a look at the top right corner of the screen. You will find a yellow "Deposit" button. Click on this button.
You will be shown a notification to inform you that your funds are safe with Guts since the casino is obliged by law to keep your financials on separate accounts. Click on "Continue" to move forward with the deposit.
3
Choose your Deposit Method
You will be offered several available deposit methods on the left side of the page and several deposit amounts on the right side of the page.
Click on the amount you want to transfer. There is also an option "Other" in case you want to type in a specific amount that is not on display. Click on the method you want to use.
Depending on the method you have chosen, you may need to provide certain additional information.
For instance, if you choose Neteller, you will have to type in your email and secure ID to confirm the transfer within the environment of your Neteller account.
Go back to the casino's front page and check your balance. It will display the updated funds, as Guts casino deposits are processed right away.
Visit Guts Casino