So, are you ready to set off on an adventure to the Entertainment Capital of the World? While there are many things to consider to prepare for this trip properly, one of them may seem not that important. Yes, we are talking about clothing, and if it is something you don't pay attention to in your daily life, this time, you will have to.
Since you don't want to miss out on the fun at Vegas casinos, you have to be prepared to dress for the occasion. In this guide, we will share a few tips and tricks with you so that you can dress appropriately for Las Vegas casinos.
Before you visit a Vegas casino, make sure to check its dress code. It may vary from one facility to another. Still, it comes down to this: you need casual daytime outfits and formal attire for evenings in most cases.
Speaking of casual clothing, we have to point out a few things. First, wearing flip-flops, sneakers, shorts, torn jeans, or a jersey is not an option. Most casinos on the Strip will frown upon these pieces, especially in the evening.
You will often hear that it is better to overdress than underdress in Las Vegas. Or, to put it simply, you should dress to impress. During the day, when visiting a casino, you can wear jeans with a t-shirt if you are a man. Women can wear casual shirts, trousers, skirts or dresses with flats.
When it comes to night-time gambling, more formal outfits are welcomed by most Vegas casinos. Men should wear monochromatic collared button-down shirts with trousers. As for women, they can go for cocktail dresses. Those who like fancy clothes can also wear evening dresses or gowns. However, women should avoid wearing clothes that are too revealing.
3
Choose Loafers and Flats
Men should wear closed-toe shoes, such as loafers. Women can wear sandals. Still, if you decide to wear high heels, keep in mind that your feet can hurt after some time. In this case, consider bringing a pair of flats with you. If you are planning to go to a nightclub later, make sure to pick a more formal pair of shoes, though.
4
Avoid Wearing Anything that Raises Suspicion
You don't want to attract the attention of casino security, so avoid wearing hats, sunglasses or any other accessories that can make you look suspicious. Also, don't wear any gadgets, such as Bluetooth pieces. Surveillance people may think that you are equipped to cheat and remove you from the casino floor.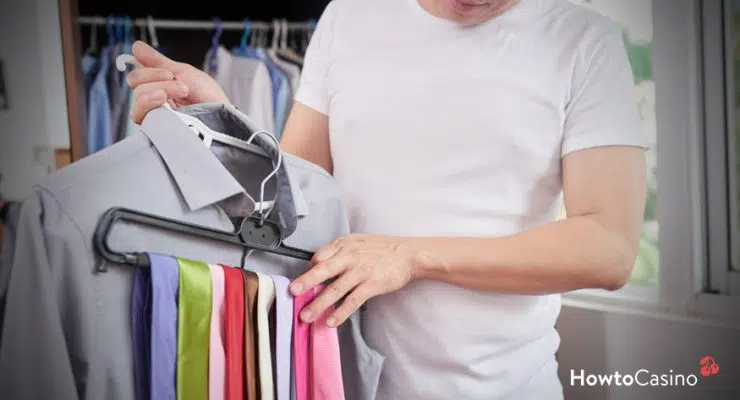 5
Business Casual Is Always a Good Idea
If you are not into fancy clothes, you can still enjoy gambling at Vegas-based casinos. For most of them, business casual is the perfect option. To dress properly for Las Vegas casinos means to sport decent and neat outfits. The good news is that even when it is a scorching hot day outside, gambling halls are perfectly air-conditioned. So, you can relax and enjoy the gameplay to the fullest.