Live Casino Hold'em is a card game by Evolution. If you love Texas Hold'em poker, you will also enjoy this variation. There are no restrictions on how many players can enjoy this game. You would think that this makes the game slow and a drag to play. But far from it. The gameplay is quick and keeps you engaged.
This guide looks at various aspects of Live Casino Hold'em and how you can get started.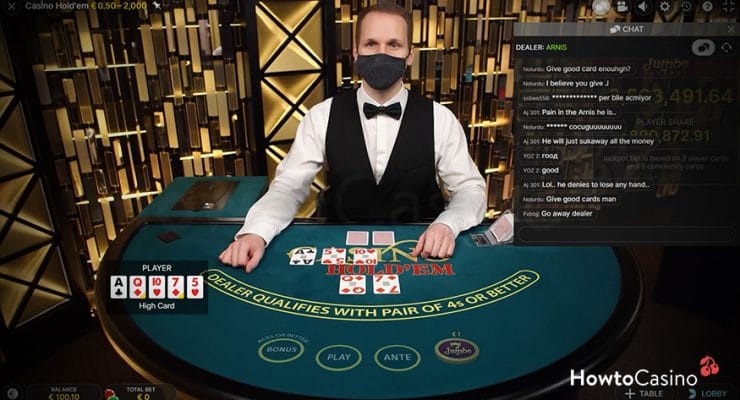 1
Features of Live Casino Hold'em
Scalability
Live Casino Hold'em is a one-to-many game. All players taking part are trying their luck against the dealer.
This means that there is no limit to the number of players who can participate at the same time.
Interactive
Evolution designed this game with interaction in mind. You can turn the live chat feature on or off.
When turned on, it allows you to communicate with the dealer and even with fellow players.
2
Live Casino Hold'em Gameplay
Placing Wagers
You need to wait for the betting period for you to place any wagers in this game. Live casino Hold'em is a quick game, so you need to act quickly before this period lapses.
You wager by selecting the number of electronic chips you want to place on the ante. At this point, you can also opt to find the "aces or better" side bet.
The Dealer's Role
The dealer will then give you a two-card hand face up. The dealer also gets two cards, but this time, they are face down. Three community cards are then dealt face up so you can decide on which action to take.
Players will then need to make a decision. Poker is all about getting the best card combination.
If you feel like you won't win with the hand you've been dealt, you can fold. But this means you lose your wager.
If you're confident that your hand is a winner, you can press the plus sign on the screen, that's a call. Double your auntie will be added to the call section on the betting area.
The dealer then deals two more community cards to complete the combination. At this point, the dealer's cards, which will face down all along, will be revealed. The winning hand is the one with the higher valued card combination.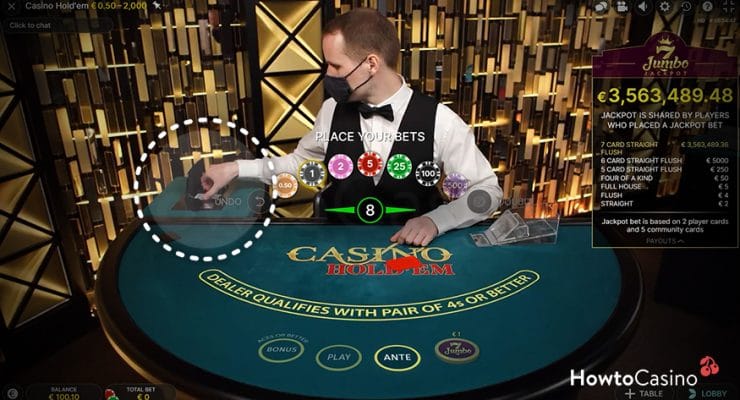 Live Casino Hold'em is played with one deck. Cards are taken from the shoe after each round and reshuffled. This means you cannot use any card counting strategies in this game.
5
Live Casino Hold'em Hands Ranking
If you are going to play Live Casino Hold'em successfully, you need to understand the rankings.
The main types are:
The high card – starts from aces going downwards.

The pair – two cards of the same kind.

Two pairs – two sets of cards of the same kind.

Trips / 3 of a kind – three cards of the same kind.

Straight – five cards in a sequence.

Flush – five cards of the same suit.

Full House – features three of a kind and a pair.

Four of a kind – four cards of the same kind.

Straight flush – five cards displaying the same suit presenting in a sequence.

Royal flush – 10, J, Q, K, A with the same suit.