A special betting option is betting on yellow and red cards. Whereas in the past you could only bet on cards in international matches, it is now possible in almost all competitions. Consultation of statistics is extra important for this type of betting.
1
Betting on Cards for Players
Before the match you can bet on who will receive a yellow or red card.
Payout is based on someone's position, previous cards and behavior. If there is a rivalry between two players, you should definitely take this into account when betting on yellow and red cards.
You can also bet whether someone will get a yellow when betting live. Usually after a few fouls, you will see a card arriving far in advance. Make use of this.
The bookies also offer bets on how many cards a team will receive. For example, you can bet on:
Number of cards: On average, there are five to six cards in a football match. So, it is interesting to bet on over/under 5.5. Here, you can bet on the total number of cards of a team, or on the total number of cards in the entire match.
Red card: Do you think someone with a red card should leave the field? There are 3-way variants where you get odds for both teams and a "no red card" quote.
Number of points: Online bookmakers have come up with a somewhat complicated points system. A team gets 25 points for a red card and 10 points for a yellow card. You bet on the total number of points on one team, or the entire match.
First / Next / Last Card: This bet is usually offered as an in-play bet. Before or during the match, you bet money on which of the two teams gets the first, next or last card from the referee.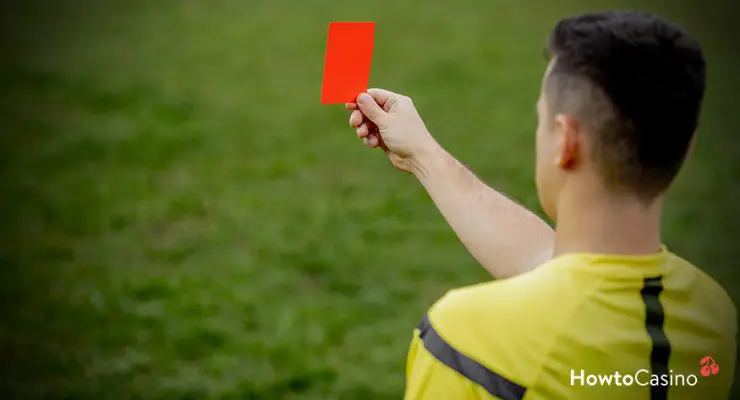 There are card-happy referees that you just have to look at, and there are also those who almost never show cards. It is very important to analyze the ref before betting on yellow and red cards.
4
Players Who Deliberately Get a Card
Suppose, in a first semifinal Champions League, it is 5-0 and a player has a yellow card on his record. You know for sure that he is going to pick a card on purpose so that he is suspended for the second match in the semi-final. He is then sure that he can play the final.
In certain derbies, tempers are often very high. You can take advantage of this when betting on cards. The public often gives the teams an extra boost and there will certainly be a lot of cards.
In Scotland, a match between Celtic and Rangers guarantees many cards.
6
Games Where Nothing Is at Stake Anymore
A match that is of no competition importance to both teams is suitable for betting on 0 or under 4.5 cards.
This certainly applies if the teams normally also treat each other in a friendly manner.