Video poker is often played for real money at online casinos. However, this game is also available for free across different gambling sites. Free poker games allow bettors to meet themselves with basic rules before making real deposits at favorite casinos. By checking this guide, you can find more about how to play free video poker right away.
1
Choose Free Poker Variation
Once you find a reputable casino site, be sure to create an account. Some sites will not require registration to access free games. Go to the poker section and select one of the available free versions. Most providers offer a flash version of games and players don't have to download anything to access games.
2
Start with Free Jacks or Better
Online casinos offer different poker versions for free. However, newcomers should stick with the easiest gaming variations such as Jacks or Better. This game is simple to understand and follow. The paytable is not complicated and the strategy is clear.
3
Play the Game with a Strategy Chart
If you are just playing for fun, you would certainly avoid overthinking the strategy and next steps. However, if you wish to enhance winning chances, you should start playing with a strategy chart.
A strategy chart will rank the hands based on their importance. You check the rankings until you reveal the best possible combination in your hand.
4
Choose to Play with a Poker Trainer
When you select the poker mode with a trainer, you have better chances to develop pattern recognition as you observe the identical hands and positions over and over. Once you meet yourself with the basics of the game, it is recommended to learn the strategy to improve winning chances.
However, there is a limited number of available games with free video poker trainers. Even if you find some of them, it will only include the most popular variations such as Aces and Eights, Bonus Poker, Jacks or Better, or Joker Poker. To access more versions, you will have to purchase a special program.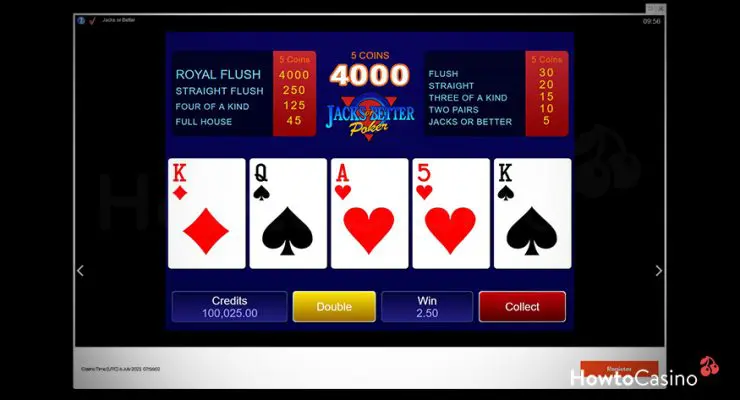 5
Proceed with the Action
Once you have made preparatory steps, you can press the deal button and receive cards. If you want to hold some cards, just click on them. Discard cards which you don't want and receive a replacement for them.
If your cards meet the payout conditions, you will receive virtual coins as part of the free poker play.